By Jeff Goodman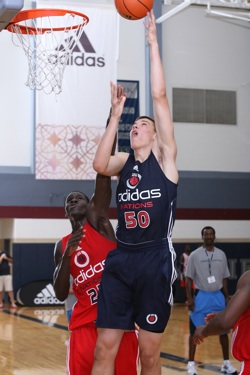 A few years ago Kaleb Tarczewski was an anonymous 7-footer from the sticks of New Hampshire.
Now he's headed to Arizona.
Tarczewski committed to Sean Miller and the Wildcats on Monday afternoon in a recruitment in which many had him pegged for Kansas.
"It was a very long journey," said Tarczewski, a Claremont, New Hampshire native who has spent the past three years at St. Mark's (Mass.). "An unbelievable process. I'm so lucky to be in this position and never would have imagined having these options when I first came to St. Mark's."
Ultimately it came down to Arizona and Kansas. However, North Carolina and Kentucky were also in pursuit for the No. 7-ranked prospect in 2012.
"I had great programs and great coaches recruiting me," Tarczewski said. "It just felt right at Arizona. I fell in love with everything - from the current players to the staff to Brandon Ashley, Grant Jarrett and Gabe York."
"My parents really supported me in my decision to go to Arizona," he added.
Tarczewski was basically discovered and tutored by Jay Murphy. Then he went out on the road with the New England Playaz - where he received the exposure to be recruited at the highest level.
He has terrific size, runs the floor extremely well for someone his size and has a work ethic and attitude to match. He still has his deficiencies, but the best aspect about Tarczewski is that he understands it - and is willing to put in the work.
"I still have a long way to go as a player, but I've had a ton of help along the way," Tarczewski said. "Without people like T.J. Gassnola, Jay Murphy, Dave Lubick and John Carroll, I wouldn't be in this position.
"I hope during my four years at Arizona, I can help win Pac-12 titles and help get to the Final Four."
Tarczewski becomes the fourth Arizona commit in the Class of 2012 - joining Ashley, Jarrett and York. All four are considered Top 50 players in the class - and three (Ashley, Jarrett, Tarczewski) have a legitimate shot at making the McDonald's All-American Game.
Photo: Adidas Nations