By Jeff Borzello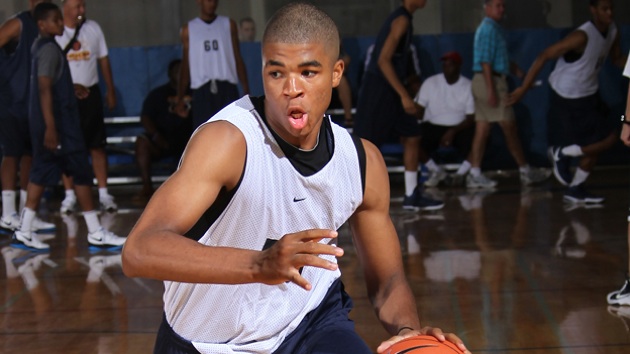 INDIANAPOLIS – After Nate Britt's outstanding NBPA Top 100 camp performance in Virginia two weeks ago, buzz started to spread about Britt as the top point guard prospect in the class.
After Tuesday, Andrew Harrison took the title back in impressive fashion.
"You saw the game," Harrison said afterwards. "Of course I [think I'm better]."
Harrison, a 6-foot-5 rising junior from Travis (Tex.), has the size and vision to be a future pro. He has very good handle and can get to the rim at will. Defensively, he gave Britt problems with his length and lateral quickness.
With fellow stars Aaron Harrison, Shaq Cleare and Derrick Griffin all fouling out, Harrison put the team on his back in the second half.
"I'm used to it," he said. "I like it, and I'm glad we pulled out the win."
Harrison, ranked No. 5 by CBSSports.com/MaxPreps, listed Maryland, Kansas, Kentucky, Baylor, Arizona, Texas, Texas A&M and North Carolina.
"I don't want to be one and done like everybody else," Harrison said. "I'm looking to go to a family atmosphere and just be able to play."
Keith Frazier lights it up from deep
While Shabazz Muhammad was filling it up on one wing for Dream Vision, newly-acquired Keith Frazier was holding his own on the other side.
Frazier, a 6-foot-4 shooting guard from Irving (Tex.), is one of the better shooters in the class of 2013. He has a great stroke and deep range on his jumper, and his length makes his shot nearly impossible to contest.
Although he was a new member to Dream Vision, Frazier made a seamless transition.
"I'm trying to do what I can, just to fit in," he said. "I just want to play within the other players."
The No. 16-ranked player by CBSSports.com/MaxPreps listed Arizona, Houston, Kentucky, Marquette, Georgia, Baylor and Texas.
"I want a school that gets out and runs, and plays hard," Frazier said. "And one that lets me shoot."
Top Performers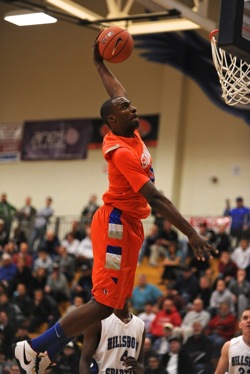 Shabazz Muhammad, 2012, Dream Vision: The new No. 1 player in the country made his case for the top spot on Tuesday. The lefty scorer dropped 40 points in a comeback win over Team Indiana Elite, and was consistently unstoppable in transition.
Twymond Howard, 2012, MSM4L: After a subpar NBPA Top 100 camp, the two-sport star was knocking down tough shots all night. Howard finished with 42 points in an overtime loss, driving to the rim and also making 3-point shots with efficiency.
Shaq Goodwin, 2012, Atlanta Celtics: Goodwin didn't always finish consistently on Tuesday, but he got to the free-throw line better than anyone in the event. He finishes through contact and doesn't shy away from physicality.
Patrick Ingram, 2012, Eric Gordon Central Stars: One of the more surprising players on the first day with Ingram. He was nearly unstoppable when driving to his right, and he consistently finished against bigger players at the rim.
Kris Dunn, 2012, Connecticut Basketball Club: Against the Atlanta Celtics, Dunn was absolutely dominant. No defender could stay in front of him, as Dunn consistently penetrated past his man and got to the rim with ease.
Craig Victor, 2014, New Orleans Elite: Although he's young, Victor had a terrific performance in the opening battle. He knows how to score with his back to the basket and he runs the floor extremely well for a young big man.
Other Notables: Of all the Florida Rams big guys, Staphon Blair might be the least-known, but he played the best on Tuesday. He's an absolute beast down low with a non-stop motor . . . Derrick Griffin might be the best dunker in the country. He will finish anything in his area . . . Kaleb Tarczewski played well in stretches, running the floor and finishing around the rim. He needs to stay out of foul trouble, though . . . Fresh off his commitment to Texas Tech, Jordan Goodman was more active and aggressive than in the past, proving to be a tough match-up . . . Nate Britt had his moments where he was unstoppable, but he was outplayed by the Harrison twins. Still, when his jumper is falling, he's very difficult to contain . . . If he ever learns how to harness his athleticism, Javonte Hawkins is going to be a big-time offensive player. He's so explosive when going to the rim . . . Gabe York can simply get off his shot whenever he wants, whether it is off the dribble or from deep-range . . . Apparently Chris Thomas had an outstanding second game, but he was thrown out of the first one after receiving two technicals in the first nine minutes.
Photos: MaxPreps