By Jeff Borzello and Jeff Goodman
The early signing period is finally here.
All of the commitments that have occurred over the past two years will finally mean something, as prospects put the pen to paper and make their verbal pledge official. No more decommitments, no more wavering – once the signature goes on the dotted line, it's a done deal.
Hundreds of kids will be signing letters-of-intent in the coming days, and we here at CBSSports.com will have everything covered. Keep it locked here for updates on official signees, commitments news and which important players are still waiting to make a final decision.
Moreover, we have plenty of additional coverage, with team-specific columns on several programs and players, updated top-100 rankings, updated team rankings, a look at who is left on the board, different awards and a few surprises along the way. This page will be constantly updated throughout the day with everything you need to know.

7:30 p.m.: We're wrapping things up in these parts for the day. Here is where we stand with the committed top-100 prospects.
Glenn Robinson Jr. (Michigan): Tonight
Jeremy Hollowell (Indiana): Tonight
Codi Miller-McIntyre (Wake Forest): Thursday
Arnaud Moto (Wake Forest): Thursday
Elijah Macon (West Virginia): Thursday, 3:00 p.m.
Javontae Hawkins (South Florida): Thursday, 3:00 p.m.
Justin Anderson (Virginia): Friday
Mike Tobey (Virginia): Friday
Kaleb Tarczewski (Arizona): Friday, 3:00 p.m.
Nick Stauskas (Michigan): Friday, 3:00 p.m.
Grant Jerrett (Arizona): Monday
Archie Goodwin (Kentucky): Monday
Cameron Ridley (Texas): No set date, but sources say he plans on doing it in the early period. Rumors are still swirling that he will reclassify to 2013.
Shaq Goodwin (Memphis): Another interesting turn in his recruitment. Committed to Memphis on Tuesday, rethought his decision and solidified his commitment. But Josh Pastner won't feel comfortable until he signs.
DaJuan Coleman (Syracuse): No word on the exact date and time for his signing, but there doesn't seem to be any question on whether he's solid in his commitment.
Twymond Howard (UTEP): Sitting down with his mother tonight to figure out a day to sign his letter-of-intent. Not wavering in his commitment to the Miners.
7:25 p.m.: Huntington Prep (W.Va.) coach Rob Fulford informs us that Missouri commit Stefan Jankovic will only sign grant-in-aid papers tomorrow. Negus Webster-Chan, another Tigers pledge, will sign scholarship papers.

7:22 p.m.: Mike Anderson has a three-man class in his first year at Arkansas. Anthlon Bell, Michael Qualls and JaCorey Williams all signed with the Razorbacks.

7:17 p.m.: Two big moves from earlier in the day. Jarion Henry, a former New Mexico signee who enrolled at La Jolla Prep (Calif.) this season, committed to Oklahoma.


7:15 p.m.: Providence's Kris Dunn and Josh Fortune both signed their letters-of-intent earlier in the day, according to reports.

7:02 p.m.: Florida State's four commits are also officially in the fold for next season, led by scoring wings Montay Brandon and Aaron Thomas. Robert Gilchrist and Devin Booker also signed on the dotted line.

6:58 p.m.: Kent State has all four of its commits signed and sealed: Darren Goodson, Khaliq Spencer, Kellon Thomas and Chris Ortiz.

6:54 p.m.: James Robinson made it official, signing earlier today with Pittsburgh.

6:45 p.m.: Per a source, North Carolina is still waiting on Joel James. Marcus Paige, J.P. Tokoto and Brice Johnson have all sent in their paperwork. James signed the papers, but he is waiting for his family to give their signature as well. It should be done soon.

6:26 p.m.: South Alabama signed two: Delvin Dickerson, from Westbury Christian (Tex.), and Antoine Allen, out of Palm Beach State (Fla.).

6:10 p.m.: Georgia State had another solid recruiting class this year. T.J. Shipes, Cameron Solomon, R.J. Hunter and David Travers all signed with the Panthers.

6:08 p.m.: Junior college transfer Lamont Prosser signed a NLI with Portland State.

6:07 p.m.: Illinois State nabbed two letters-of-intent, from Aaron Simpson and Anthony Beane Jr.

6:06 p.m.: Bradley signed Ka'Darryl Bell, a point guard from Oak Park (Ill.).

6:06 p.m.: Fishburne Military forward Joshu'a Warren signed with Chattanooga.


6:05 p.m.: Utah added five players for next season, led by Jordan Loveridge. The other four are Josh Hearlihy, Justin Seymour, Southern Utah transfer Dallin Bachynski and returning LDS missionary Jeremy Olsen.

6:02 p.m.: Nate Kratch signed with Santa Clara today. He's a 6-foot-7 lefty shooter from Watertown Mayer (Minn.).

6:02 p.m.: Adding to its signing of Grant Ellis earlier, Iona just received an NLI from Dashawn Gomez.

5:55 p.m.: We're all focused on the class of 2012 right now, but most of the heavy action is behind us. Looking forward, the future looks even better, as the class of 2013 promises to be filled with more talent and more excitement on the recruiting trail. Check out our preview of the class of 2013.

5:40 p.m.: Stony Brook announced the signings of Ryan Burnett, Carson Puriefoy III and Jameel Warney.

5:27 p.m.: Baylor and Iowa were each waiting for one more fax, and now they have it. Kyle Meyer is official to the Hawkeyes, while Chad Rykhoek has signed with the Bears.

5:16 p.m.: Three players made it official for Furman: Kevin Chuisseu, Kendrec Ferrara and Larry Wideman.

5:15 p.m.: Western Michigan added six today: A.J. Avery, Charles Harris, Jared Klein, Darius Paul, Taylor Perry and Connor Tava.

5:13 p.m.: There's been some good news and some bad news for South Carolina today. Guards Ian Baker and Carlos Morris decided not to sign their letters-of-intent today, instead prolonging it to the spring. However, Tyrone Haughton, a 6-foot-10 big man from Miami, did make it official for South Carolina.

5:11 p.m.: Guards Michael Frazier and Dillon Graham have sent in their paperwork to Florida, completing the Gators' 2012 class so far.

5:02 p.m.: Wyoming received four signees in the early period. Josh Adams, Austin Haldorson, Jason McManamen and junior college transfer Matt Sellers inked for head coach Larry Shyatt and the Cowboys.

4:50 p.m.: Several top-100 prospects will be making their announcements at press conferences in the near future. Here's a rundown.
Gavin Ware (Mississippi State): Today, 4:30 p.m.

Prince Ibeh (Texas): Today, 4:45 p.m.
Gabe York (Arizona): Today, 5:00 p.m.
Glenn Robinson Jr. (Michigan): Today, 6:00 p.m.
Jeremy Hollowell (Indiana): Today, 7:00 p.m.
Elijah Macon (West Virginia): Tomorrow, 3:00 p.m.
Kaleb Tarczewski (Arizona): Friday, 3:00 p.m.
Nick Stauskas (Michigan): Friday, 3:00 p.m.
Grant Jerrett (Arizona): Monday
4:46 p.m.: DePaul has both of its commitments -- Jodan Price and DeJuan Marrero -- signed.

4:44 p.m.: One of the best non-BCS classes in the country is official. Towson received all the proper paperwork from Timajh Parker, Barrington Alston, Frank Mason and Jerome Hairston.

4:42 p.m.: North Dakota State received NLIs from Brett VandenBergeh and Dexter Werner.

4:41 p.m.: Bob Huggins has his first signee of the class, with Eron Harris making it official.

4:40 p.m.: Everyone is official for Clemson, with Jaron Blossomgame, Landry Nnoko, Adonis Filer, Jordan Roper and Josh Smith all sending in their NLIs.

4:28 p.m.: Louisiana Tech just received faxes from Demetrius Moore and Alex Hamilton.

4:27 p.m.: Arkansas-Little Rock head coach Steve Shields picked up five signees on Wednesday. John Gillon, Josh Hagins, Stetson Billings, Mareik Isom and Andrew Poulter form a very solid class that should make an impact in the Sun Belt.

4:26 p.m.: Buffalo nabbed a signature from East Aurora (N.Y.) product Stan Wier.

4:25 p.m.: Kansas State received a letter of intent from Laimonas Chatkevicius, an under-the-radar 7-footer from South Kent Prep (Conn.).


4:20 p.m.: The first member of Arizona's top-ranked recruiting class has made it official: Brandon Ashley will be a Wildcat.

4:17 p.m.: Four-fifths of Iowa's recruiting class has inked. Adam Woodbury and Mike Gesell are both signed, as well as Anthony Clemmons and Patrick Ingram. Hawkeyes are still waiting on Kyle Meyer.

4:15 p.m.: Colorado has both of commitments in, with Tyrone Wallace and Kaileb Rodriguez both making it official.

4:10 p.m.: Per a source, D'Vauntes Smith-Rivera has sent his paperwork in to Georgetown.

4:02 p.m.: Oregon has NLIs from both Dominic Artis and Ben Carter.

3:58 p.m.: Marshall Wood gave his signature earlier in the day, but now Virginia Tech has the letter-of-intent from its top-100 recruit, Montrezl Harrell.

3:54 p.m.: Colorado has its entire five-man class on board. Xavier Johnson, Josh Scott, Wesley Gordon, Chris Jenkins and Xavier Talton all signed with the Buffaloes today. It's a group worthy of a top-25 national ranking.

3:47 p.m.: Per a source, Langston Morris-Walker and Maika Ostling have officially joined Oregon State. Morris-Walker could be a sleeper that has the potential to emerge as a factor for the Beavers.

3:46 p.m.: Bobo Drummond and Travis Wilkins both inked for Southern Illinois.

3:44 p.m.: Stanford has its entire class signed and sealed: Rosco Allen, Christian Sanders and Grant Verhoeven.

3:41 p.m.: New Mexico's class is completed for the fall, as Nick Banyard, Obij Aget and Devon Williams all made it official.

3:40 p.m.: Drake received signed letters of intent from Rihard Carter, Joey King and Micah Mason.

3:26 p.m.: Jordan Barham just sent his paperwork into Davidson.


3:24 p.m.: Hundreds of kids will be making their decisions and signing their names in the next week, but the nation's top-ranked prospect won't be one of them. Shabazz Muhammad is waiting until the spring to make a commitment, and a slew of schools are willing to wait for him. Borzello breaks down his recruitment.

3:15 p.m.: Duke only has one recruit in the class of 2012 at this point, but he's a good one. Rasheed Sulaimon is one of the better guards in the class, and the five-star prospect sent in his paperwork about an hour ago.

3:13 p.m.: Half of Virginia's 2012 class is complete. Evan Nolte and Teven Jones signed their NLIs earlier today, while Mike Tobey and Justin Anderson are expected to make it official on Friday.

3:10 p.m.: Sam Dekker is good to go for Wisconsin.

3:08 p.m.: UNLV's prized recruit Katin Reinhardt made it official for UNLV earlier today. He's a top-40 talent who will bring swagger, shooting ability and versatility to the Runnin' Rebels.

2:53 p.m.: It's still up in the air whether Cameron Ridley will sign with Texas this period, which only adds to the rumors of the past few months that Ridley might have to reclassify to 2013. However, a source tells CBSSports.com that Ridey is still likely to send in his paperwork soon. "He will sign," the source said. "Not today, sometime in the early period."

2:51 p.m.: Tom Crean, the Indiana program and the Hoosiers fans have all been waiting for this day. Crean has one of the best recruiting classes in the country, with three top-40 players in the five-man class. Goodman writes that this is the most significant step of the Crean era.

2:49 p.m.: Wright State announced the signings of two recruits: J.T. Yoho and Jacoby Roddy.

2:37 p.m. - Mo Cassara and Hofstra got signatures from Jimmy Hall and Dallas Anglin.

2:32 p.m.: Tyler Lewis made North Carolina State's class complete by signing his NLI. T.J. Warren and Rodney Purvis did it earlier.

2:29 p.m.: Kyle Anderson made it official with UCLA earlier today, and Jordan Adams joined him earlier. The Bruins' class is set for now.


2:28 p.m.: Daniel Ochefu and Ryan Arcidiacono (right) both signed with Villanova.

2:26 p.m.: Oklahoma has Buddy Hield and Jelon Hornbeak in the fold.

2:24 p.m.: Xavier Johnson is set for Colorado.

2:20 p.m.: Mississippi State got an NLI from gunner Fred Thomas about an hour ago. Rick Stansbury is still waiting for Josh Gray, Craig Sword and Gavin Ware.

2:17 p.m.: Purdue had three of its letters-of-intent, and now they have four. A.J. Hammons sent in his paperwork earlier today.

2:14 p.m.: The St. Mark's (Mass.) trio of Kaleb Tarczewski (Arizona), Nik Stauskas (Michigan) and Eric Green (Holy Cross) will sign their NLIs at 3 p.m. on Friday.

2:12 p.m.: Florida State's top-100 guard, Montay Brandon, has made it official. He signed earlier today with the Seminoles.

1:59 p.m.: Toledo officially added big man Nathan Boothe, a 6-foot-9 center from Warren Township (Ill.).

1:54 p.m.: Isaiah Austin has inked with Baylor. He's ranked No. 7 in our top 100.

1:44 p.m.: Javan Felix just signed with Texas.

1:38 p.m.: Who's the most overrated recruit? The most important recruit? Which team signed the best backcourt? Borzello and Goodman debate these questions, and 12 more topics, in our Signing Day Senior Superlatives.

1:33 p.m.: Arizona State just got NLIs from Eric Jacobsen, Kenny Martin and Calaen Robinson.

1:32 p.m.: Three recruits made it official for Missouri State: Bruce Marshall, Marcus Marshall and Gavin Thurman.

1:28 p.m.: Georges Niang (Iowa State), Patrick Holloway (George Mason), Aaron Durley (Marquette) and Olivier Hanlon (Boston College) are all signed and sealed.

1:03 p.m. - Marquette just added another one in Steve Taylor. Now Buzz and his staff just waiting on Aaron Durley.

1:01 p.m.: Shaq Cleare, Jake Layman and Seth Allen are all good to go for Mark Turgeon and Maryland.

12:57 p.m.: Plenty of stars are starting to send in their signatures: Yogi Ferrell (Indiana), Perry Ellis (Kansas) and Omar Calhoun (Connecticut) all made it official.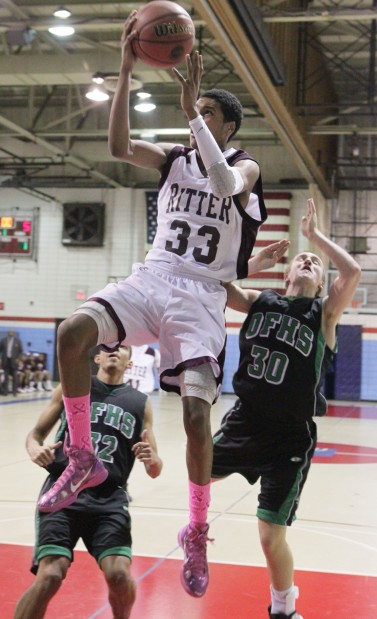 12:55 p.m.: Notre Dame is done for the day. Cameron Biedschied (right), Zach Auguste and Austin Burgett all made it official.

12:53 p.m.: Oklahoma State's class is set, with Marcus Smart, Phil Forte and Kamari Murphy all sending in their letters.

12:50 p.m.: In addition to all our signing day coverage of commitments and letters-of-intent, we also updated our top 100 player rankings for the class of 2012. Shabazz Muhammad is No. 1, but who were the movers and shakers in this edition? Top 100 Players for 2012

12:47 p.m.: Per a source, Columbia just picked up a commitment from Grant Mullins, a 6-foot-2 point guard out of Canada.

12:40 p.m.: Cortell Busby, Elijah Ray and Linwood Ross Jr. all signed NLIs to IUPUI.

12:38 p.m.: Braxton Ogbueze has signed with Florida. One of the best point guards in the cnountry, Ogbueze is the prized recruit of Billy Donovan's class.

12:35 p.m.: Michigan State received signatures from all three of its recruits: Denzel Valentine, Matt Costello and Kenny Kaminski.

12:32 p.m.: It's not often three five-star big men go to the same school in the same year. Well, Sean Miller convinced Brandon Ashley, Kaleb Tarczewski and Grant Jerrett to all come to Tucson. Throw in guard Gabe York, and the Wildcats have the No. 1 class in the country: Sean Miller hauls unlikely No. 1 class to Arizona

12:29 p.m.: J.T. Terrell just signed with USC. Terrell was previously at Wake and is now at a junior college.

12:28 p.m.: Junior Lomomba just announced his commitment minutes ago -- he's headed to Cleveland State. Strong power guard from Wisconsin chose Vikings over UCLA, Cincinnati, Washington State and New Mexico State.

12:23 p.m. - Xavier has all four of its guys signed: Semaj Christon, Myles Davis, Jalen Reynolds and James Farr. Chris Mack loves the prep schools.

12:20 p.m.: Minnesota has received a letter from Wally Ellenson.
12:15 p.m.: Anrio Adams, a prolific scorer from Washington, has bounced between 2012 and 2013 for the last several months. He's staying in 2012, but he won't sign early. Plenty of schools are pursuing him, though, including Kansas, Baylor, Arizona, Washington, Connecticut, Louisville, Washington State, USC, Florida, Virginia Tech, Marquette, Oregon, Villanova and Georgetown.

12:14 p.m.: Damien Wilson's letter came through to Memphis.

12:13 p.m.: Brandon Taylor is good to go at Penn State.


12:01 p.m.: Xavier's steal of a point guard, Semaj Christon (right), sent in his paperwork, per his Twitter. Christon is one of the most explosive scoring point guards in the country, and could be a major impact player in the Atlantic 10.

11:58 a.m.: One player who won't be making his decision today is Gary Harris. While still expected to announce this week, his mother tweeted that he will not be signing today. (h/t to Nicole Auerbach)

11:55 a.m.: L.J. Rose is official to Baylor.

11:53 a.m.: Willie Cauley just signed for Kentucky.

11:47 a.m.: Chris Obekpa, one of the best defensive players in the country, will decide in the late period, according to Our Savior New American (N.Y.) assistant coach Eric Jaklitsch. Connecticut, Cincinnati, St. John's, Florida, Kentucky, UCLA, Providence, Seton Hall, Georgia Tech and DePaul are all in the mix for the 6-foot-8 power forward.

11:43 a.m.: For the first time in awhile, Kentucky does not own the No. 1 recruiting class in the country. That doesn't mean John Calipari is done working his magic in the class of 2012, though. Where do the Wildcats stand? Here is our breakdown of Kentucky's remaining targets

11:35 a.m.: Terry Rozier has sent in his paperwork to Louisville. He is the Cardinals' lone signee in 2012 -- for now.

11:25 a.m.: Madison Jones, one of the top unsigned point guards left in the class of 2012, told CBSSports.com that it is likely he will decide in the early signing period. He says he's down to American and Seton Hall, and will sign either tomorrow or Friday. Jones is a 6-foot-1 prospect from Ravenscroft (N.C.).

11:20 a.m.: Jordan Montgomery is Kennesaw State's first signee.

11:17 a.m.: Houston's monster class is almost official -- Danuel House and Chicken Knowles signed their letters-of-intent today.

11:16 a.m: East Tennessee State received NLIs from Petey McClain, a point guard from Mobile (Ala.), and Mario Stramaglia, a shooting guard from Birmingham (Ala.).

11:13 a.m.: Winston Shepard, our No. 53 prospect, informed CBSSports.com that he will not be making a decision during the early signing period. The Bishop Gorman (Nev.) forward currently has New Mexico, UTEP, Georgia, Oklahoma State, Texas and others on his list. We predicted New Mexico as his future destination.

11:09 a.m. T.J. Bell has inked with Indiana State.

11:05 a.m. - Purdue just got LOI's from Ronnie Johnson and Raphael Davis.


10:56 a.m.: Per Jody Demling, Hanner Perea (right) has signed on the dotted line for Indiana.

10:55 a.m.: Looks like Kyle Anderson is officially off to UCLA.

10:54 a.m. - T.J. Taylor joins Jamal Ferguson as official Marquette Golden Eagles.

10:53 a.m. - Murray State signed Erik McCree, a 6-7 combo forward out of Florida.

10:48 a.m.: Ever wonder what coaches think about one another? More than 100 coaches responded to our seven-question survey about their peers. It includes who they think is the best recruiter, most overrated, most underrated, rising star, etc. -- Coaches' Survey

10:30 a.m.: Purdue received its first letter-of-intent, from Jay Simpson. Simpson just announced it on Twitter.

10:29 a.m. - Marcus Hunt and Chris Bolden have signed with Georgia Tech.

10:27 a.m.: Texas A&M officially has its backcourt of the future, as J-Mychal Reese and Alex Caruso both sent in their letters of intent.

10:20 a.m.: Junior Lomomba is set to announce his decision at 11 a.m., between Cleveland State, Cincinnati, UCLA, New Mexico State and Washington State. We spoke to him last week about his finalists: Decision date nears for Lomomba

10:17 a.m.: Per a release from Marquette, forward Jamal Ferguson has inked his letter-of-intent.

10:09 a.m.: If your team didn't make the national top 25, here is our conference-by-conference breakdown of the recruiting classes.

10:06 a.m.: Arizona has the No. 1 recruiting class in the country, picking up three five-star prospects and another top-40 recruit. But who else has done their homework heading into the early signing period? Here are our Top-25 Team Rankings.

10:05 a.m. - Saint Louis has received the NLI's of 6-foot-6 wing Jared Drew from Indiana.

10:04 a.m. - Bryn Forbes, a 6-foot-4 combo guard, has inked with Cleveland State. Gary Waters still waiting on two more today.

9:59 a.m. - In-state power forward Marshall Wood has sent in his paperwork to Virginia Tech.

9:58 a.m. - Auburn already has all three of its guys in - Jordan Price, Shaquille Johnson and Jordon Granger.

9:57 a.m. - Clemson, in addition to Blossomgame and Roper, now also has a LOI from Josh Smith

9:46 a.m.: Manhattan received an NLI from Paul Bayt. Two more on the way.


9:45 a.m.: Mitch McGary announced on Twitter he's signed his LOI with Michigan. He's ranked No. 2.

9:41 a.m.: Iona has received an NLI from Grant Ellis.

9:40 a.m.: Iowa State has Nkereuwem Okoro's and Sherron Dorsey-Walker's signatures. Now waiting on Georges Niang.

9:35 a.m.: Jaron Blossomgame and Jordan Roper have sent in their NLi's to Clemson.

9:23 a.m.: North Carolina State is getting its business out of the way early. T.J. Warren, ranked No. 25 in our top 100, said on Twitter that he has signed his letter of intent with the Wolfpack. Also, Scout.com reported that Taylor Barnette signed with UCF.

9:16 a.m.: Nkereuwem Okoro made it official with Iowa State, per a source. The Cyclones have done a really good job recruiting New York City the past couple of years, thanks to assistant coach Matt Abdelmassih's ties to the area. They nabbed Tavon Sledge in 2011 and now Okoro in 2012. This isn't the end of the pipeline, either. Iowa State is heavily involved with plenty of NYC-area prospects in the class of 2013, including Terrence Samuel.

9:15 a.m.: Ricardo Ledo announced on Twitter that he has signed with Providence. He's the No. 17 prospect and fifth-best guard.

9:05 a.m.: Per his Twitter account, Rodney Purvis just signed with North Carolina State. He ranks No. 18 in our Top 100.

9:00 a.m.: Who's still on the board heading into the early signing period? There are nine five-star prospects and 20 top-100 recruits undecided as of now. Here's a breakdown of their recruitments and where I think they'll end up: Top Uncommitted Players

8:49 a.m.: The first pledge of the day comes from the Atlantic-10, as Dayton picked up former Cincinnati commit Devon Scott. The news was confirmed by a source. Scott is a 6-foot-8 forward from Northland (Ohio). He joins Jevon Thomas and Jalen Robinson, two former high-major decommits, in the Flyers' 2012 class.
12:25 a.m.: The biggest piece of news from the night before signing day was Ricardo Gathers' decision to decommit from St. John's and sign in the spring. Gathers is ranked No. 52 in CBSSports.com's Top 100 and is arguably the best rebounder in the country. Before he chose the Red Storm, teams like Texas, LSU and others were in the mix for his services. It will be very interesting to see what his next move will be.

Photos: STLToday.com, Cincinnati.com, Adidas Nations, Nation of Blue, BucksLocalNews, LA Times, Max Preps, Desert News