By Jeff Goodman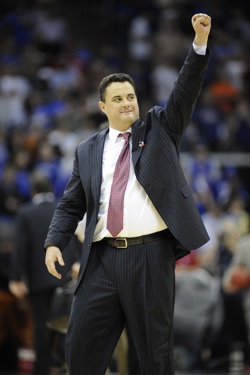 Brandon Ashley, Kaleb Tarczewski and Grant Jerrett.
Three of the elite big men in the entire country, all headed to the same place.
Tucson, Arizona.
A decade or so ago, this would hardly be newsworthy. Lute Olson was doing this sort of thing all the time, plucking the best of the best - especially on the west coast.
But Arizona hasn't been, Arizona, for a while now.
That's set to change with Ashley, Tarczewski and Jerrett - in addition to consensus Top 50 guard Gabe York - all signing with Sean Miller's Arizona Wildcats.
Ashley checks in at No. 3 overall in our rankings, Tarczewski is at No. 5 while Jerrett (No. 23) is also a legitimate McDonald's All-American candidate.
This is a class that stands at numero uno right now - without any question or hesitation - and it's also one that no one expected out of Miller when took the job a couple years ago.
Miller was an east coast guy who had virtually no recruiting ties west of the Mississippi, but he's been able to make inroads in California - and that's a state that has been primed to invade lately with the inability of Ben Howland to secure elite local talent and the hesitation of Kevin O'Neill to go after (or secure) potential one-and-done guys.
Sure, Miller was fortunate that USC let Derrick Williams out of his letter of intent and ended up in Tucson. He was lucky that he was able to persuade former Xavier signee Kevin Parrom to come with him to Arizona.
But this was a program with as much instability as any in the nation a few years ago.
It appeared to be in the same realm as Indiana, a major rebuilding process that could take years for it to be nationally relevant again.
Now Miller, just two years removed, is beating Kentucky and Phil Knight, I mean Oregon, for studs like Ashley. He got John Calipari twice this year and also nabbed Tarczewski over Kansas and North Carolina.
That's mind-boggling.
However, the most shocking aspect of his current class is that the 7-foot Tarczewski committed with Ashley and Jerrett already in the fold. This could be the most talented trio of big men in the country in any one spot a year from now - and we haven't even touched on current Arizona freshmen Angelo Chol or Sidiki Johnson - both big men who cracked the Top 100 in the previous recruiting class.
With this group that will ink in the early signing period, Miller has put Arizona back where Olson had it in his heyday.
Just imagine a starting unit of sophomore guards Josiah Turner and Nick Johnson in the backcourt with a healthy Parrom or Solomon Hill (both will be seniors) on the wing and some combination of Ashley, Tarczewski and Jerrett up front. Then you'll have guys like Johnson, Chol and York coming off the bench.
That's a team that can compete for a league - and likely even a national - championship.
Photo: US Presswire