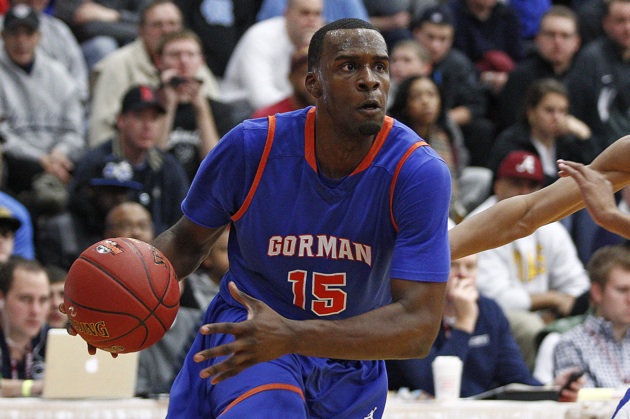 No. 1 prospect Shabazz Muhammad has not given any hints as to where he's headed next year. (US Presswire)
Everyone wants to know where Shabazz Muhammad will play his college basketball next season. As the consensus top prospect in the class of 2012, his decision has the attention of fans, casual observers, recruitniks, coaches – everyone.
Muhammad's classmates at Bishop Gorman (Nev.) are no different.
"Probably 10 times a day in school," Muhammad said last week when asked how often he hears the question. "Everyone wants to know. I don't mind it. I just say I don't know yet.
"I'm still looking at all my schools."
Muhammad, a 6-foot-5 small forward, has had a pretty static list for the past year. UCLA, Kentucky, UNLV, Duke, Arizona, Kansas and USC are the ones jockeying for his services right now.
He's taken his time throughout the process, only taking official visits to Kentucky and Texas A&M so far. He won't make a decision until he's taken all five of his officials.
"Probably when I'm done with my visits," Muhammad said. "I have three more officials, and I'm definitely going to take them. I'll have them scheduled in a month or so."
For now, he said he's looking at Duke, Kansas and Arizona for the remaining visits. Because they're so close to home, UCLA and UNLV likely won't receive official visits.
"It's worthwhile to go to a farther school for an official, since they're paying," Muhammad said.
UNLV seems to be gaining some traction in his recruitment, especially after picking up Pittsburgh transfer Khem Birch. Moreover, the hometown school has been on Muhammad as long as anyone, and the Runnin' Rebels performance this season is just proving that the program is on the rise.
They're certainly in the mix for Muhammad.
"The program is really coming along," he said. "They got Khem Birch, some other recruits. They're a great program, they're going to be a great team. I'm really looking forward to getting more involved with the recruitment."
Muhammad also said he would be OK staying at home in Las Vegas.
John Calipari and a couple of assistants were in attendance for Muhammad's game at the Hoophall Classic against DeMatha Catholic (Md.). The Wildcats are continuing to turn up the heat on Muhammad.
"The interest level is high," Muhammad said. "Coach Cal was at my game. I talked to them a week ago. I just think I fit really well in their style of play."
Another school that sent a head coach and two assistants was Duke, as Mike Krzyzewski was front-and-center for Muhammad's nationally-televised game.
"Coach K is just a mastermind," he said. "I'm really getting excited about going down there."
The school that has been associated with Muhammad's recruitment for most of the past two years was UCLA. The Bruins are squarely in the mix for him, and the addition of top-five prospect Kyle Anderson in the fall can only help.
"Who wouldn't want to play with Kyle?" Muhammad said. "How he sees the floor is just remarkable."
Another school in the running for an official visit from Muhammad is Arizona. The Wildcats have the top recruiting class in the country right now, and adding the No. 1 prospect would cement its spot atop the rankings.
Moreover, Sean Miller would have one of the most talented rosters around.
"I think I would fit really well," Muhammad said. "They run a high-tempo style."
Style of play is Muhammad's most important factor in his recruitment. He prefers a mostly half-court style where he could use his tremendous scoring ability to his advantage, but he also wants some fast-break opportunities where he can get out in transition.
Muhammad won't let the pressure get to him; he's set on taking his time and making an informed decision after his season ends.
"It's kind of weighing on me, but I'm still weighing my options out."