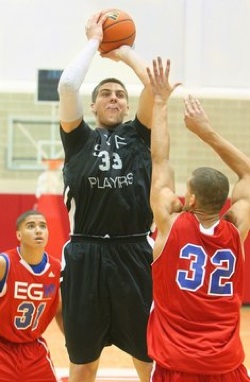 Michigan couldn't get a top-five prospect, right?
That was the popular line of thought for many throughout Mitch McGary's recruitment. The last five-star recruit the Wolverines received a commitment from was Daniel Horton back in 2002, and John Beilein has never been known to pick up top-50 guys on a consistent basis.
With Kentucky, Duke, North Carolina, Florida and others in the mix, the Gary, Indiana native still always kept Michigan at or near the top of his list. On Thursday, McGary made it official – he's going to be a Wolverine.
This is a monster commitment for Beilein and Michigan. He's the No. 2-ranked prospect in the country, shooting up the charts with a dominant spring and summer for the SYF Players. Beilein runs an offense that allows for the big man to play multiple positions and do different things on the court, which is perfect for McGary.
McGary will fit in with Michigan and could take them to the next level in the Big Ten. He's a high-energy big man whose attitude and personality are infectious to his teammates. He can score around the basket and also knock down face-up jumpers out to the arc. McGary runs the floor very well, and his shot-blocking ability and athleticism have improved greatly. Moreover, he is strong and makes an impact on the glass.
There are only two seniors on the Wolverines' roster right now, Stu Douglass and Zack Novak. Tim Hardaway Jr. is poised to become a star on the perimeter, while Jordan Morgan is developing into a consistent option down low. With freshman Trey Burke set to be the point guard and Beilein's usual assortment of shooters, Michigan is a Sweet 16 threat this season. With McGary and two other top-100 recruits – Glenn Robinson and Nik Stauskas – coming into the fold next year, do the Wolverines have Final Four potential?
That's how big this commitment is for Michigan; it immediately makes them a major factor in 2012-13, and also potentially opens the door for more high-level recruits to make their way to Ann Arbor.
There's no longer questioning whether Michigan can get a top-five recruit. The Wolverines just did.
Photo: Indy Star