By Jeff Goodman and Jeff Borzello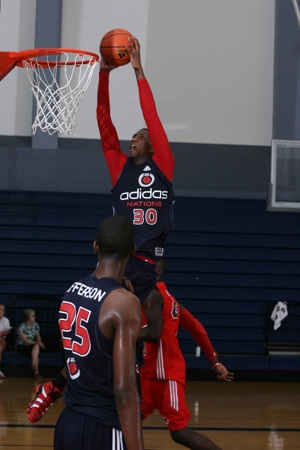 San Diego State got arguably the nation's best on-ball defender in Winston Shepard. (Adidas Nations)
Looking ahead to next season, San Diego State was missing just one key ingredient: a lockdown defender on the wing who could guard multiple positions.
The Aztecs got what they needed on Thursday, as top-50 senior Winston Shepard committed to Steve Fisher's program, a source told CBSSports.com.
Shepard is a 6-foot-8 small forward from Findlay Prep (Nev.) and one of the best defensive players in the country. He has terrific athleticism and is very difficult to contain in the open floor. Shepard has improved his jumpshot over the past year, and he loves to crash the offensive glass for tip-ins and putbacks.
After his performance against Jabari Parker at the Hoop Hall Classic in January, Shepard's stock rose in the eyes of many. He has limitless energy, and was not afraid to chase Parker and force him into bad shots from the perimeter. Shepard's size, length and athleticism enable him to guard players at different positions. We've seen him guard everyone from point guards to post players – and be effective at it.
Shepard saw recent interest from teams like Connecticut, St. John's and Oregon, while New Mexico, UNLV, Oklahoma State and UTEP have all been involved for a long time.
He joins guard Matt Shrigley and forward Skylar Spencer in San Diego's 2012 recruiting class. Transfers Dwayne Polee (St. John's), J.J. O'Brien (Utah) and James Johnson (Virginia) are also sitting out this season for the Aztecs.
With the stud backcourt of Jamaal Franklin and Chase Tapley also returning, the future looks very bright for Fisher's program.