By Jeff Goodman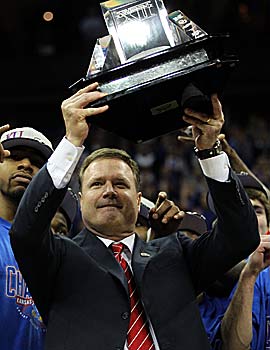 There's no logical explanation.
Bill Self is regarded as one of the elite recruiters in the country and Kansas is obviously a program that is soaked in tradition.
Self is as likable as just about any coach in the nation and is a fixture on the recruiting trail - whether it's during the season or in the July recruiting period.
Kansas has just about everything to offer a kid - exposure, Phog Allen Fieldhouse and all the bells and whistles that many top-tier recruits yearn for nowadays.
So, why are the Jayhawks struggling mightily to land big-time players?
There is clearly playing time available in Lawrence these days, yet Self and his staff haven't been able to secure any of the big boys.
Sure, they got Perry Ellis.
But he's no program changer - and he's a local kid that may have gone there no matter who was in charge.
Oh yeah, they also got an unranked power forward named Zach Peters.
Kansas is hardly intimidating on paper this season and next year it could be even worse. Tyshawn Taylor will be gone - and Thomas Robinson could well explore the NBA route if has the season many (including me) expect.
The Jayhawks recently swung and missed on 7-footer Kaleb Tarczewski, their top target in the Class of 2012. Assistant coach Joe Dooley put in more work with the New Hampshire native than anyone else - but they lost out to Arizona.
They've also struggled to secure a big-time guard - which is a necessity with the departure of Taylor. Marcus Smart went with Oklahoma State in a package deal with Phil Forte and J-Mychal Reese also paired up, with his father to Texas A&M. Kansas missed on Danuel House, who is headed to Houston, and Ioannis Papapetrou went with Texas over the Jayhawks.
There's still the top-ranked player in the Class of 2012, Shabazz Muhammad, but I'm not sure anyone - even Self - thinks Kansas has any chance over UCLA and Kentucky.
Maybe it's time to re-evaluate Self as one of the elite-level recruiters in the nation.
Or maybe this is just one of those years where all the stars aligned in a way that went against the Jayhawks.
Whatever the case, it's baffling. There's no clear explanation for what's gone on in Lawrence lately, but that wealth and excess of talent that was found at Kansas a couple of years ago?
Those days are gone. At least for now.
Instead, it can be found in other places - like Lexington, Tucson and Chapel Hill.
Photo: Getty Images