Recruiting needed to change. Everyone knew it – including the NCAA.
On Thursday, the NCAA Board of Directors adopted a new recruiting model for men's basketball, changing or adjusting six major rules. More importantly, the rules will go into effect within the next several months, meaning we won't have to wait two or three years for the changes – like most of the NCAA's changes.
The two biggest changes, according to most people, are the deregulation of contact between coaches and recruits, and the fact official visits can now begin January 1 of a prospect's junior year. Other major adjustments included opening up April for two weekends to coaches, while trimming July into three four-day periods. On-campus evaluations during official visits and contact at a recruit's high school during their junior year are also permitted under the new model.
The changes will affect everyone, from college coaches to AAU coaches to high school coaches, as well as high school players and their parents. All of the changes seem geared towards speeding up the recruiting process and making it more involved at an earlier age. With the number of recruits making early decisions nowadays, it makes sense – too many kids were committing without going on official visits or getting enough evaluation time from coaches.
While the feedback has been generally favorable from all the parties involved – although many said nothing touched on agents and runners – not everyone is happy with each of the rule changes. To get a true feel of what each party thought, we reached out to 10 people – college coaches, AAU coaches, high school recruits and parents – to see what they think. Here are the interviewees:
Jamie Dixon, head coach, Pittsburgh
Josh Pastner, head coach, Memphis
Paul Hewitt, head coach, George Mason
Chris Walker, No. 5 prospect in 2013
Brannen Greene, No. 16 prospect in 2013
Dinos Trigonis, AAU coach, Belmont Shore
Matt Ramker, AAU director, Florida Rams
Marland Lowe, AAU coach, Texas PRO
Arisa Johnson, mother of Jaylon Tate, No. 73 prospect in 2013
Kelana Rivera, mother of D'Vauntes Smith-Rivera, No. 38 prospect in 2012 and Georgetown commit
We went rule-by-rule with each person to get a brief response or thought on the rule.
Contact is mostly deregulated starting June 15 after a recruit's sophomore year. Coaches will be allowed to send unlimited text messages, make unlimited phone calls and send unlimited private messages via social media websites.
Dixon: "We already had unlimited email, so it won't be that much different. The monitoring of it was the basis for it. The lost time allotted for it was becoming endless. We were having violations where a kid texted you, but you thought it was an email, and you responded with a text."
Pastner: "95 percent of kids would rather text than talk on the phone. You find out earlier who's interested in you. I'd rather the kid tell us he's not interested. It puts some responsibility on the kid. There needs to be honest communication."
Hewitt: "I think anything you can do to put college personnel in the lives of these kids helps. Not that everyone needs that type of guidance, to explain to them what eligibility means, classes, official visits, rules. Those types of things, if we can have college personnel in the recruiting process, it definitely take some of the mystery out of it."
Walker: "I think it's going to be good, plus crazy. I'm going to get blown up everyday – all day now. I don't care though, I ignore people half the time but it will be alright."
Greene: "I'm really going to see who wants me, but it might get a little overwhelming."
Trigonis: "I think it's a dumb thing. Instead of unlimited contact, should give parents power to decide contact. Form where parent sets up parameters for contact. It's a recipe for disaster. I don't mind the more contact, I think they needed to give more. But how can you go from no contact to unlimited contact?"
Lowe: "I think that all the kids and parents better make sure they have an unlimited texting plan. It's good for the coaches to be able to communicate with the kids, establish an initial relationship. You have to be careful, though, kids have to put their phone down sometimes."
Johnson: "It's a bit excessive because it can be overwhelming when you have multiple coaches calling. It's going to get out of control; it's going to be too much for the kids to keep up with. It's going to get to a point where a lot of these coaches are going to be ignored. They're starting to feel a little annoyed. The attention at the beginning, they welcome it. But after awhile, it gets irritating. The relationship will start to break down."
Rivera: "I think there has to be some sort of cut-off times or maximum number of calls with the player. Maybe unlimited contact with parents. They would likely tire of the recruiting process quickly, if they are constantly fielding calls. They may become more distracted and consumed with that as opposed to school, practices, family, church, etc."
Two weekends in April will be opened up to college coaches.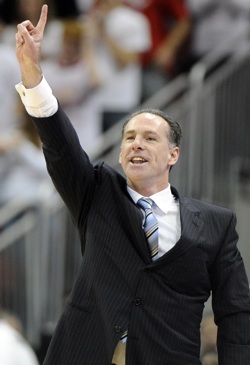 Dixon: "I was a huge proponent of that. Certain coaches prefer to not have April, because they get to see kids during the year that no one else sees."
Pastner: "I think it's good, it's all positives. You can see more prospects at once. Evaluate."
Hewitt: "I think it's a very smart move. You look at a guy taking over a job. I think it helps a coach to go out there. It will help on cutting down on transfers. You watch a kid throughout his high school, highest level of competition with their travel team. Now you may have him go against another 3-4-5 division-I players. It's a more accurate evaluation, and that hopefully leads to fewer transfers, which will help APR."
Walker: "It's good because the people without offers and much exposure could get more exposure and offers and opportunities, so that's a good look."
Greene: "I really like that addition. I think it's positive because kids get two extra chances to impress the college coaches."
Ramker: "I personally like having just July. It was more of the true essence of summer basketball. April will be better for coaches, evaluations heading into July. I don't think it's a bad change."
Lowe: "There won't be as many transfers as there have been in the past. I think it's a great opportunity for the schools overall. It's too easy to make errors when you can watch them in July only."
Johnson: "When they all have to wait until July, and they all come out at one time, it can be overwhelming. At those tournaments, to see all those coaches lined up against the wall like that, it can be intimidating and uncomfortable. It takes away their concentration and focus. They're trying to figure out which coaches are there, and who's there to see me. The kids will be a little more focused and less distracted."
Rivera: "That way, the players aren't feeling the need to be in every single event in July. Trying to fit everything into a couple of weeks in July adds stress to families and on the players' bodies. Not to mention, it would likely be better for coaches and their families as well."
July will be trimmed to three four-day periods, as opposed to two 10-day periods
Dixon: "I think it's far better. If people saw how few evaluations we had other than July, people are often times surprised. They're few and far between, and not to the level of July. A high school game, you're not always going to see someone playing against someone at his level, and that's your evaluation. Offers are being made in April, and as head coaches you're seeing them even more rarely."
Hewitt: "I think it's a very positive step for the kids that are playing. When they start playing 10 days in a row, it leads to injuries. Overuse, stress-related injuries."
Walker: "It causes us to get more rest because last summer I was tired as hell from all the back-to-back tourneys."
Greene: "I think it's beneficial to the college coaches and their health and well-being. For us players, I think it's an OK rule. But I personally like the two-period July better. I just liked continuously playing in front of college coaches."
Trigonis: "You're going from 20 to 12 days. How does that help the smaller schools? That's a big advantage for the bigger schools. Why not just make it four straight days? Ultimately what they've done, they've killed the smaller, regional events. Why does it have to be, I give so I have to take? It's childish. It really is."
Ramker: "A lot of the tournaments we do to keep kids busy. This will give us three tournaments, won't have to play just for the sake of playing. Teams will be sharper, kids won't be as tired."
Johnson: "When you just have those couple of opportunities, it adds more pressure. It creates more pressure. You think, 'this is my chance, this is my shot.' You really lose the concept of team ball. It's not about team anymore; it's about the individual player, because you're looking at limited opportunities."
Official visits can begin January 1 of a recruit's junior year, with travel expenses for the recruit and his family being paid for by the school
Dixon: "The influence of third-party people was magnified by unofficial visits. From the end of the high school season to visits were a six-month period where it was all the paying for scouting services, paying for exhibition games, paying for campers – all based around trying to get kids to their campus. Now you can bring both parents. We were empowering the middleman. I had hoped the official visits would start in April. We wouldn't want one of our players to visit NBA teams during our season."
Pastner: "A lot of that has something to do with strategy. When do you bring him in? Is it too early? You don't want to bring him in too early, if he's not ready to commit. And if he does, that's a long time to keep him committed. Kids change their minds a lot these days."
Hewitt: "That will benefit the highest-profile programs. I think what will happen is that the highest-level programs will be more able to get a kid to commit early. As for the parents, that's the best thing they ever could have done. Bringing them into the process, that's a huge step in the right direction."
Greene: "I absolutely love that part of the new rule. I was planning on deciding in mid-December, but now I'm going to push it back a month so I can take a few official visits."
Ramker: "It's very necessary for parents to go on the visits with their kids. Low socioeconomic backgrounds, parents need to be involved in the decision. Need to sit with the coaches, help their kids make their decisions. That's the best of all of them. It will cut down on a lot of shadiness. Kids can make decisions earlier; if they know where they want to go, they can get that out of the way."
Johnson: "I have mixed feelings about that. Kids are being recruited earlier and earlier, and the kids are feeling the pressure that they need to commit early. We've had coaches ask us, 'are you ready to commit today?' – on an unofficial visit. And we feel it's still a little early. Kids are committing sooner because they're afraid another kid is going to commit sooner. It's part of the whole recruiting process – and we're kind of getting away from that. Years ago, it wasn't like that. It wasn't all this big rush and pressure to commit so early in your high school years and career. You lose out on something, the process where I feel you should be able to be recruited, you should be able to get a chance and visit schools and develop relationships, and get a good sense of what the schools have to offer. You could compare different schools and campuses. You could compare and get a feel, hopefully find a school that's a good fit. You're not going off the name or reputation of the coach, that's all a part of the process. If you have this pressure, you'll miss out. That will help if you can move it up and do it sooner."
Rivera: "We had a very short time to get officials in this year before practice and everything started. Had we been given the option, we would have definitely gotten a couple in last winter or spring."
On-campus evaluations during official visits will be permitted
Dixon: "It takes out another rule that was very hard to monitor. It's almost ridiculous. My office overlooks the floor, so we had three different types of shades put in. There was a push to have actual tryouts, and I was really against it. I thought that would be bad press."
Hewitt: "I think it's good to watch them, and it's not exactly a tryout. Watching a kid workout against your team, it will help reduce misses and fewer transfers."
Greene: "Sure, why not? I would love for a college coach to be able to see the hard work I put in."
Ramker: "I didn't really see a reason why they couldn't do that in the first place. They all play pick-up anyway, the coaches just couldn't watch. The coaches could do everything else with them; I don't know why they couldn't watch them play pick-up. The changes cut out a lot of the shadiness."
Lowe: I think it's fine if the kid wants to do it. You'll have kids that want to see how they fit in; other kids don't want to expose themselves. I think it's good if they want to do it, but not mandatory."
Johnson: "I think that helps with being able to assess and evaluate. When coaches come out and see you practice or with the AAU teams, that can pique or develop your interest even more. But to be able to watch them and have them come on campus and play with the team – that adds another perspective on how to evaluate the player. And it gives the player a better feel for it as well. I see benefits and advantages on both ends. You can see where you need to be, ultimately, when you leave high school. This is what you're preparing for."
Rivera: "That may help the player with making his decision, by having a good feel for the players they could possible be playing with."
Some contact at a recruit's high school will be permitted beginning during a prospect's junior year
Dixon: "It's a sign of things, of where they are now. Kids are committing during their junior years often times, and so now you're going to be starting with contact their junior year. The monitoring of it was a gray area. What one school considered a casual greeting, another considered a 20-minute sit-down."
Pastner: "It will eliminate some of the gray area."
Hewitt: "I think that's very intelligent. That's a very smart rule. If that rule is in effect, Bruce Pearl is still at Tennessee. What it does is help demystify the recruiting process and what you have to do to get to college. It opens it up for the family to ask questions. The more you can have that conversation, the more you put at the front of a kid's mind. In the past, you've seen a kid gets bad advisement from someone, he comes back and he got the wrong information or took the wrong class."
Ramker: "I thought that was an awful rule, that college coaches could go to a kid's high school and pretend like they don't even know them. It will help build a rapport, coaches get a feel for the players, players get a feel for the coaches and parents get a feel. It will cut down on transfers, lead to better evaluations by the players and the coaches. That's been needed. I think that's a great change. Coaches need to talk to the kids; kids need to figure out what they want to do."
Lowe: "It forms a relationship early on. It helps starting to develop a relationship early, as long as it's not too much contact."
Johnson: "I think when you want to start trying to get a good vibe from who this person is, who they are as a coach, as a man. You need to do that through interaction, you need to do that through communication. The sooner you can start that, the better. That way, you are able to start building that relationship. It can only enhance how both parties feel about one another, and it's not limited to I can call you or I can text you, or tweet you. I can see you and talk to you, face-to-face. I like that. I think that works. I don't see anything negative unless there are several coaches there and they're all waiting to talk to specific players. I can see that getting out of control, a little uncomfortable, maybe a little intimidating. If there are seven coaches there and they're all waiting to talk to this one player, I can see that being a turnoff. They really don't want to talk to all these people right after playing."
Rivera: "I don't see anything wrong with that either. As long as there are limitations, which I'm sure there would be. Maybe how many times they can visit, which is already in place I believe. And how long or private the contact is. For instance, if a coach talked with a recruit 10-15 minutes after a big game in the gym, seems OK to me."
Photo: Blue Devil Nation, US Presswire, Recruiting Spotlight