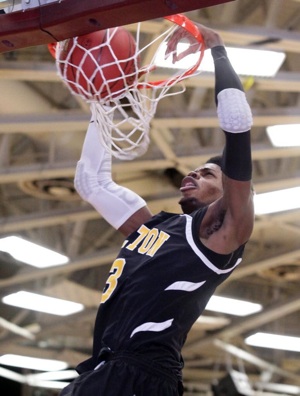 Nerlens Noel's recruitment has heated up since he reclassified to 2012. (MassLive.com)
Since Nerlens Noel announced a few weeks ago that he was reclassifying to the class of 2012, he's been the most talked-about recruit in the country.
Noel, a 6-foot-10 Massachusetts native who plays at Tilton (N.H.), immediately moved to the No. 1 ranking in the nation. Moreover, the schools pursuing him have really turned up the heat.
"Recruiting has gone crazy all of a sudden," Noel told Jeff Goodman on SiriusXM's Inside College Basketball on Thursday afternoon. "I just need to plan out some visits to get out to all these schools. Keep talking to coaches, build better relationships with them."
Noel is currently considering Kentucky, Syracuse, North Carolina, Florida, Georgetown and Connecticut. He later tweeted that Providence was also on his list, but did not mention them during the interview with Goodman.
He visited Syracuse this past weekend for the Orange's win over Connecticut, and he will trip to Kentucky this coming weekend.
"I'm talking to a few more coaches to get down to their campuses during vacation," Noel said.
Noel is the best shot-blocker in the country, and would immediately be the best in the college game too. He has tremendous dexterity defensively, able to cover a lot of ground and alter shots with either hand. Noel's offensive is constantly getting better, and he is developing post moves and is taking defenders off the dribble as well.
He would dominate defensively wherever he ends up.
"Just a good program where I can go and play and be comfortable with the coaching staff, the whole program," Noel said. "I know I can develop as long as I'm there, as a player and a person."
Noel maintains that he is wide open among the six schools he mentioned, and he is still a long way from making a decision.
"I don't really have a timeframe," Noel said on the show. "I just want to make sure I get in all my visits to these schools. However long that takes."