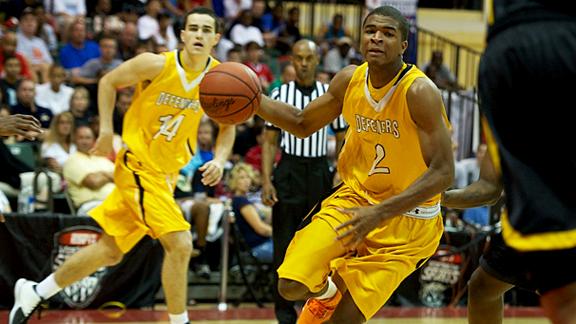 ORLANDO, Fla. – While Las Vegas gets more publicity for the events held there during the second July live period, the AAU Super Showcase and AAU Nationals have just as much talent and competition as the Sin City. Sure, it doesn't have the Strip, but there are 12 air-conditioned courts in one area – as opposed to the constant driving and navigation of the Vegas deserts.
This year, Orlando was even more loaded than usual. Some of the top U-17 teams were there for the Super Showcase, including Peach Jam champion BABC, EYBL regular-season champion Team Takeover, Peach Jam semifinalist Georgia Stars and the top-five Houston Defenders. Mitch McGary, Rodney Purvis, Robert Carter, Devonta Pollard, Gary Harris, Archie Goodwin and plenty more top-25 players were on hand as well. Both Florida Rams teams arrived for Nationals, as did CBC, Houston Hoops and the studs of Texas Pro. 2013 was well represented, with five-star prospects Nerlens Noel, the Harrison twins, Chris Walker, Troy Williams, Anthony Barber, Jonathan Williams III, Brannen Greene and Isaiah Hicks present in Florida.
At the Super Showcase, the surprise was the semifinal run made by Hoop Heaven Heat Elite, an under-the-radar team from New Jersey headlined by Alabama-commit Jaren Sina. BABC ended their run in the semifinals, while the Houston Defenders bounced Team Takeover on the other side of the bracket. In the title game, BABC couldn't create offense from its defense and the Defenders ended BABC's string of dominance in convincing fashion. The AAU Nationals will go until the end of the month, but many coaches, scouts and players are checking out early. While there are still great games happening, it wasn't hard to see that nearly everyone was hitting a wall. With that said, here's a look at who impressed at the Wide World of Sports Complex in Disney World this week.
Top Performers
Andrew Harrison, Houston Defenders: With a game that reminds some of Dwyane Wade, Harrison is unarguably the best guard in the country – regardless of class. He is impossible to stay in front of because of quickness and handle, and his 6-foot-5 size makes him a matchup nightmare.
Aaron Harrison, Houston Defenders: While his twin brother is the point guard, Aaron is the scorer. He has tremendous range on his jumper, and is good enough to knock down several in a row. Harrison also finishes well at the rim.
Georges Niang, BABC: He won't impress you with his size, athleticism or length, but the Iowa State-bound Niang is simply productive. He is not afraid to do the dirty work inside, and will bang with anyone. No matter the opponent, Niang gets the job done.
Danuel House, Texas Pro: Teammate Isaiah Austin is the higher-profile player, but House stood out in Orlando. The wing is strong, athletic and really knows how to finish in the lane. If he tightens his handle, he's going to be tough to guard.
Alex Poythress, Georgia Stars: Poythress has been talking about becoming more of a small forward, and he showed off his expanded game in Orlando. He knocked down 3-pointers consistently and was still his usual active self around the rim.
Jake Layman, BABC: Layman (right) has broken out as much as anyone the past few weeks, with some saying he's a future pro. The King Phillip (Mass.) product is very long and skilled on the wing, but is athletic and quick enough to guard any perimeter position.
Jaren Sina, Hoop Heaven Heat Elite: Someone has to get credit for leading Hoop Heaven to the semifinals of the Super Showcase, and the Alabama-bound Sina gets the nod. He is a strong and savvy guard who can get to the rim and knock down outside shots. Sina is also a very good passer.
Marc Loving, All-Ohio Red 16s: Some people have soured on Loving in recent months, but he was outstanding when we saw him. Loving is tough to guard due to his ability to hit from the perimeter or take defenders off the dribble and finish at the rim.
Tyler Cavanaugh, Albany City Rocks: With DaJuan Coleman not in attendance, the onus fell to Cavanaugh to carry the City Rocks – and he came through. He carved out areas in the post to make plays, and was also able to stretch the defense with outside shots.
Kasey Hill, Florida Rams Black: Hill continues to get better and better at each event. He has improved his ball-handling ability, enabling him to stay under control more consistently. His passing is also eye-opening, especially in transition.
Other Notables: Jaylen Brantley isn't a pure point guard and isn't big enough for the two, but he is a lights-out shooter and doesn't make mistakes . . . Fred Van Vleet (right) continues to impress onlookers and opponents – Wichita State got a steal . . . Kethan Savage of Team Takeover showed his usual driving ability, but also knocked down outside shots . . . 2013 stud Nick King is a very difficult matchup for most opponents due to his versatile skill set . . . Overshadowed by Chris McCullough at Salisbury School (Conn.), Samuel Dingba is becoming a touted prospect in his own right . . . Tony Farmer has all the physical tools; he just needs more consistent effort . . . Watching Florida Rams wing Chris Davenport for the first time, it was clear he had talent – no surprise SEC and ACC teams are on him . . . Dillon Graham is tougher than he looks; he had no problem attacking the rim in traffic . . . Buoyed by a big-time spring performance, Jerome Hairston is still tough to stop off penetration . . . Playing off the ball with Marcus Paige at the point, Mike Gessell still made plays off the dribble and from behind the arc . . . A name to remember continues to be Landry Nnoko – he is a big-time rebounder and shot-blocker who is developing . . . Allerik Freeman has a great offensive game, with the ability to score at the rim against bigger plays . . . Dartmouth-commit Alex Mitola doesn't have a pretty shot, but he has deep range . . . Shaq Cleare never backed down from Nerlens Noel, going at his chest from the get-go . . . Chicken Knowles is a future matchup nightmare if he keeps developing his outside shot . . . Archie Goodwin might be the best scoring guard in the country . . . I haven't seen anyone catch alley-oops with the explosiveness of Derrick Griffin in a long time . . . Another impressive Florida Rams Black player was Dallas Moore, who simply knows how to knock down shots . . . In the past, Wake Forest-commit Andre Washington has been underwhelming, but he was active at both ends in Orlando . . . Moses Kingsley isn't there offensively, but his length and athleticism make him a presence defensively and on the glass . . . Darryl Hicks gets it done offensively – he has great 3-point shooting ability and is getting stronger . . . Hoop Heaven Heat Elite's Chris Jenkins sent coaches and scouts scurrying for the roster books after hitting at least six 3-pointers against BABC . . . Desmond Ringer is going to be one of the best big men in 2013, given his productivity in the paint. He has a good body and overpowers most defenders . . . Dominic Woodson is a name that made its way around Orlando throughout the week – the big man is on the rise in 2013.
Photos: ESPN (Aaron Harrison), Sun-Chronicle (Jake Layman), Northern Star (Fred Van Vleet)