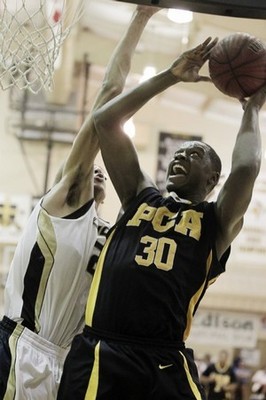 SPRINGFIELD, Mass. – Julius Randle is still about a year from making his college decision, but that hasn't stopped him from taking steps in the recruiting process.
Earlier this month, the No. 3-ranked prospect in 2013 spent some time on Tobacco Road, visiting North Carolina, North Carolina State and Duke.
"They're three programs that have great tradition," Randle said. "It was just an honor to visit. It was a lot of fun."
Randle, a 6-foot-8 power forward from Prestonwood Christian (Texas), is not tipping his hand as to which visit was the best – or to which specific schools are recruiting him.
"I don't have a list," he said. "If you name a team, they're probably recruiting me."
However, Randle did say he wants to take unofficial visits to Texas and Kentucky in the near future.
"I like the versatility of the players they have," he said.
In addition to the aforementioned five schools, Ohio State, Kansas, Baylor are also among the colleges heavily pursuing Randle. He won't make a decision until after he takes his five official visits, which will happen next fall.
While academics rank high on the priority list for Randle, coaching style is also going to be a major factor when he eventually makes a decision.
"A coach that will push me," he said. "He's not going to always tell me what I want to hear, but what I need to hear. Someone that will make me the best player I can be."
Photo: Bleacher Report